Yes it has been a while. Blame school for that. Anyways,
Oh how the mighty have fallen. How they succumb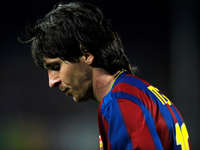 ed to the stereotypical acts of the game. How they no longer can defend their title as Champions League Winners. I'm talking about FC Barcelona. They were being compared to one of the greatest futbol club teams of all time. Lionel Messi, reigning FIFA World Player of the Year, has been in incredible form all season, scoring left and right and doing things by himself. But that's just what it has been. By himself.
The other day I made the joke that it was Arsenal vs Lionel Messi and 10 guys. Because that is what it has become. Yes, other players such as Xavi and Andres Iniesta have stepped in and made contribution, but not on a consistent basis. It seems as though Barcelona was bested by Internazionale by more than just sheer luck; it was because of a combination of many different things
For starters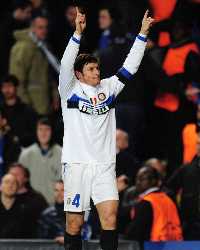 , they went up against the best manager in the game today: Jose Mourinho. Mourinho is a tactical genius, shutting down Lionel Messi and allowing him to do nothing. He played Javier Zanetti at left-back, a dominant Argentinian defender, and made sure a defensive midfielder was always in the middle for Messi loves to cut inside. It continued with the style of play. Inter didn't need to be flashy or have amazing passes; they kept it simple and just put the ball in the back of the net. And look where they are now...
Internazionale are heading to the Champions League Finals to take on Bayern Munich, a strong German side. Jose Mourinho will lead his team to capture past glory.